The 100% best method to hide all referrers and traces of your landing page URLs is to use our Double Meta HTML Redirect method.
This ensures that referrers are never leaked, and we are the only tracker in the industry that actually encodes the referrers through the redirects so that they absolutely cannot leak.
The only possible way that any referrer is leaked would be because a visitor has visited your page organically, skipping Thrive altogether.
You can set the redirect method on a system-wide basis from the Settings page (Thrive offers 6 different options):
Or, you can set it on a campaign-by-campaign basis: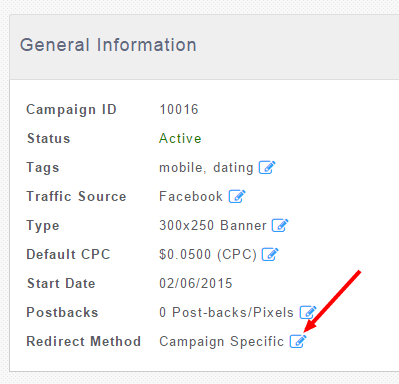 If redirect speed is a top concern instead of hiding of referrers, there are other redirect methods that you may use that may hide referrers as well.
However, some may work with certain systems, but not others. It really comes down to how the advertiser's system is trying to detect referrers, and therefore, we cannot guarantee that the other methods block them.
The only way to really check is if you have access to some interface from the advertiser that allows you to see whether the referrers are leaking through, so that you can test to see if certain other methods work.
In any case, if blocking all referrers is the most important thing, then go with the double meta HTML redirect method.
Using https (SSL required)
Going back and forth between http and https can also be very effective in blanking referrers.
Important: SSL certificate needs to be configured on your install for https links and pixels to work. If you're on cloud, simply request it from our support.
As example, this sequence would be great in blanking referrers:
http traffic source origin link
https Thrive campaign link
http landing page link (you own/control this page)
https Thrive out.php landing page click through link
http offer link
This https referrer blanking method can be used in tandem with Thrive's double meta redirect method for added protection.
When using https links though, be sure that the original campaign link and the out.php landing page link are all in https format. If you're using either the Thrive image or iframe pixel, they will need to be placed in https as well.