Let's walk through setting up your first offer.
Go into the Offers tab of your install and select "Add New Offer".


Adding a New Offer
This will bring up the below box for you to fill in.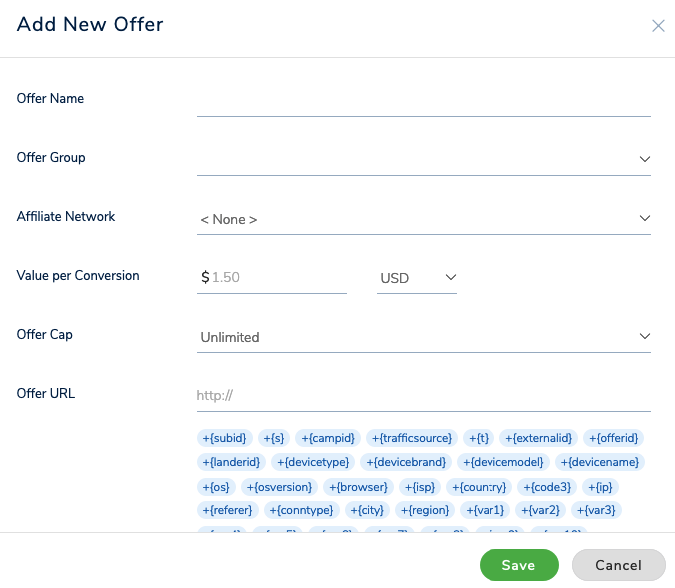 Thrive allows you to put your offers into offer groups, making it easier for you to organize. (Example, house all of your UK dating offers together in a single group)
You can assign the offer to the affiliate network and you have the ability to add an unlimited number of affiliate networks to house offers under.
You are able to add in a custom conversion amount in multiple currency options.
Set an offer cap. You can also manage what offer will rotate in once this one caps by going to your Campaign rotations. If you have an offer that will cap, you have the ability to add in a backup offer into the rotation. Just set it at 0.1% weight (1 vs the 999 that the main offer has set up). That way when the main offer caps, this secondary offer will rotate in
Numerous tokens are available to pass information back through the offer URL. Hover over any of these for a description of what it can be used for.
Offer Tab Features
We know your time is precious. Take a look at some of our time-saving tools that can be found on the Offers tab of your install.

Match Offer
Do you want to split-test a second offer? All you need to do is use our Match Offer tool and you can pair up your new hot offer with any other offer! Our match offer feature allows you to select an offer that is currently running under a specific campaign(s) and add in another offer (or multiple offers) to those same campaigns. All you have to do is select which one you want to match to, and which ones you are adding in.
Let's look at an example: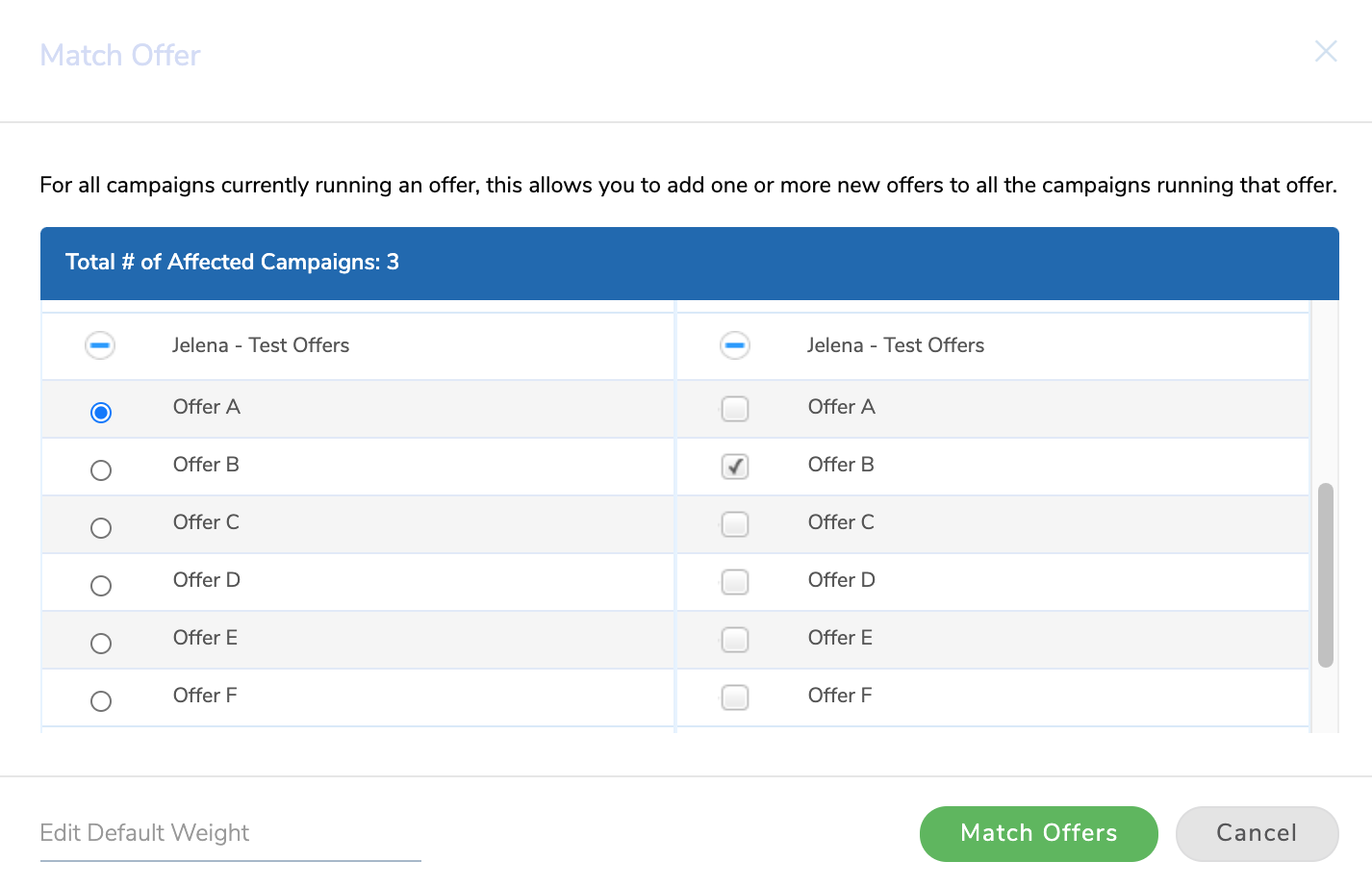 I've selected Offer "Offer A" on the left-hand side to match. I want to add in the offer "Offer B" to any campaign that currently has "Offer A" as an offer under it. If I wanted to select multiple offers here, that's no problem. Once selected, hit the Match Offer button and it will show you how many campaigns are affected and it will ask you to confirm before making the match.
Swap Offer
Now let's say that you have an offer running that you want to pull and you need to replace it with a different offer. Instead of having to manually go into every campaign to do so, just use our Swap Offer tool. This feature allows you to deal with the unexpected.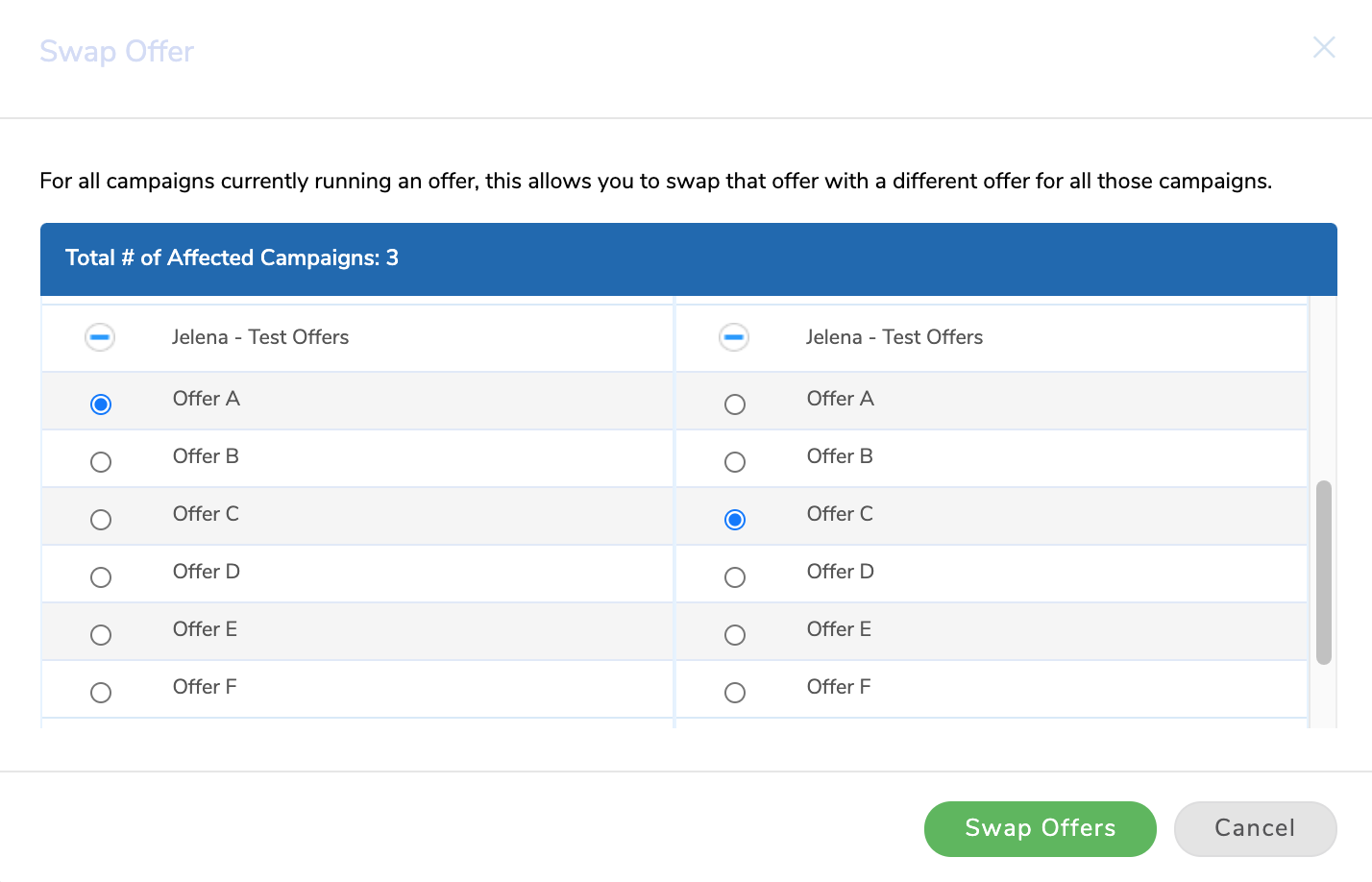 In the above example, I want to remove the offer "Offer A" from my campaigns. Anywhere this offer currently is, I want to add in instead "Offer C" as my offer.
This is also available on the Landing Page level as well.
CSV Insert Offers
You have the ability to use our CSV template under the Offers tab to batch upload offers.
First, you'll need to download a template so that you know how the CSV should be formatted.
Then, just fill in the columns provided and upload them.
Required Columns to Fill in:
Offer Name
Network
Payout
URL
Offer Group
Currency
Notes (this one is optional)


Batch Insert Offers into Rotation
Your time is valuable. With that in mind, while you're taking the time to do everything that affiliate marketing requires of you, it's important for you to be able to maximize your effectiveness. ThriveTracker has been designed to work with you to accommodate all that you want to accomplish, and that includes grouping actions together to save time. We call them "Batch Actions", and they're going to be hugely beneficial to you going forward.
Let's say you just got the hottest new offer in a vertical that you're particularly savvy in, and you'd like to insert it into your top ten campaigns for immediate use. This can be handled with just one action, not ten.
In your offers tab:
Select your offer(s)

Go to Batch Insert Offers Into Rotations
Choose the campaign rotation you want to add them to

Mark "Add Selected to landing pages" (or "Add to Direct Linking")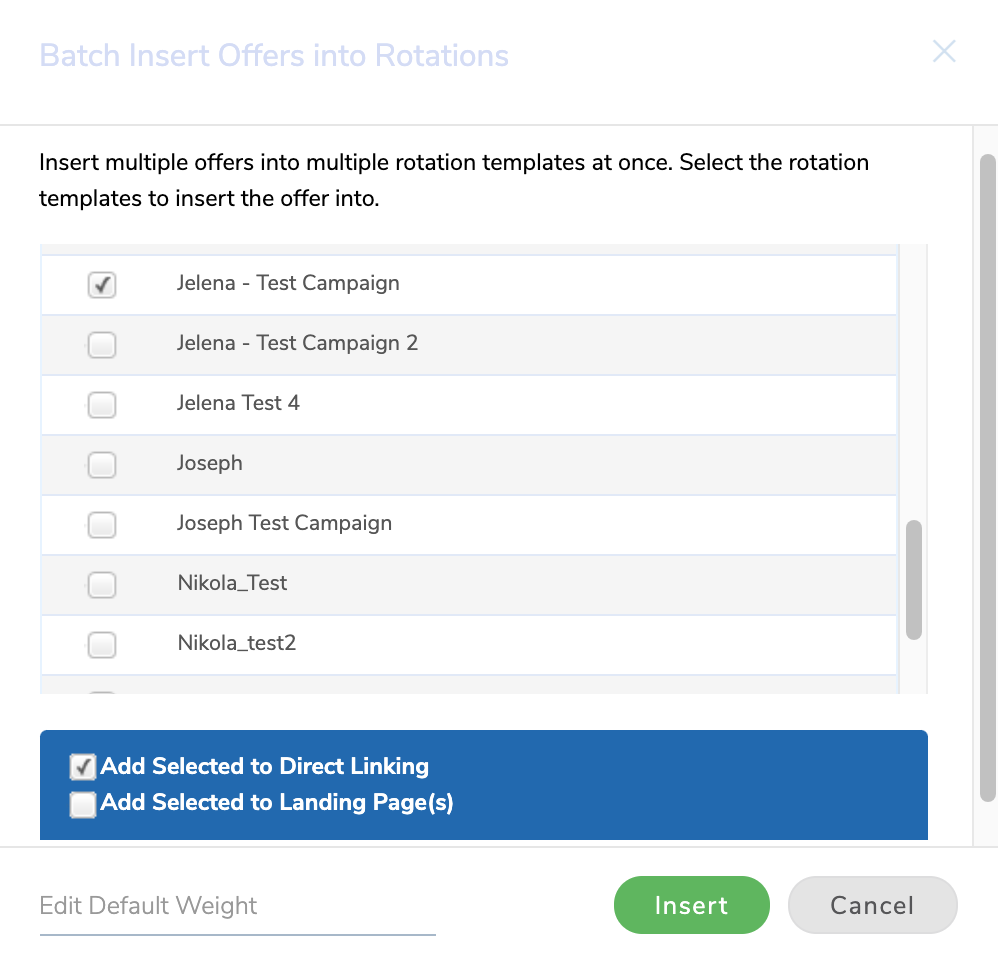 It's as easy as that!
You can also do the reverse here and batch remove offers from a rotation.
Batch URL Edit
Do you need to update multiple offer URLs? If it's a similar update for multiple offers links, don't go in to each offer individually. You can instead use Batch URL Edit.
Go ahead and select the offers you need to update and then go up to the Action Dropdown Menu: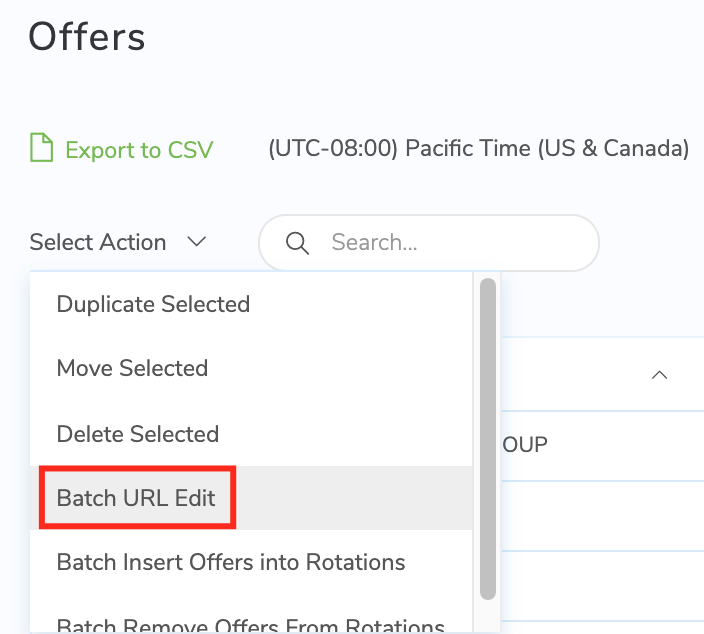 You'll then be prompted to add in the string you want to find and what you want to replace it with.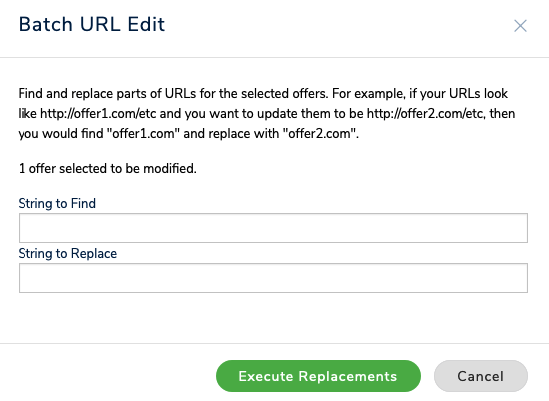 If you have any questions on set up or need assistance, please contact Support anytime and we would be happy to help you out.