Do you have multiple landing pages and/or offers that you want to add into Thrive? Instead of creating them one by one, you can use our CSV insert tool to easily add as many as you need.
You'll see a CSV Insert button on both your landing page tab and your offers tab: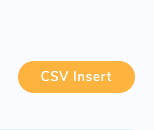 That will open up a modal with a CSV template that you can download. Go ahead and add in all of your lander/offer information and then go back to the CSV insert to upload them.
A few helpful notes:
If you want to upload offer(s) that have an unlimited cap, please put a value of 1 in the offerCap column and a value of unlimited in the offerCapPeriod. This will create them with an actual unlimited cap.
Group can either be an existing group or a new group. If new, Thrive will automatically create it upon upload.
"parameters" can be set to "1" for ON, "0" for OFF, or be left empty. If set to "1" or left empty, then the parameters can be passed to the landing page URL.