Adding a New Landing Page
Have a new landing page that you want to add in to your flow?
Just go to your Landing Page Tab of your Install and Add New Landing Page. This will bring up the below modal:
You can add this new landing page into an existing LP Group or you can create a brand new LP group. This will help you group similar landing pages together.
We have multiple variables that you can use to pass through to your landing page URL. Curious on what any of these tokens are for? Just hover over them and they will give you a brief description.
If you have questions on the custom variable tokens, which are set up on the traffic source level, please refer to our Support Article on Custom Variables or feel free to submit a ticket and one of our team members would be glad to assist.
You can set a Default Offer in case someone reaches your landing page directly, rather than from your campaign link. This is optional but recommended. Please note that this will not work if your LP Code (out.php link) is Http, but your landing page URL is https. Please make sure that if your Landing Page URL is https, that you also place a secure out.php link on the landing page.
Landing Page Features
With Thrive, you have the ability to easily manage and update your different landing pages.
Under your Landing Page tab of your install, you can easily see your different Landing Page Groups you have set up, which then expand to show the landing pages in each. Say you have landing pages for UK Dating, AU Dating, and US Dating. LP Groups help you keep those all grouped together accordingly.
You can also see the number of campaigns each landing page is included in as well as an overall report for today's date, or for any customizable date range.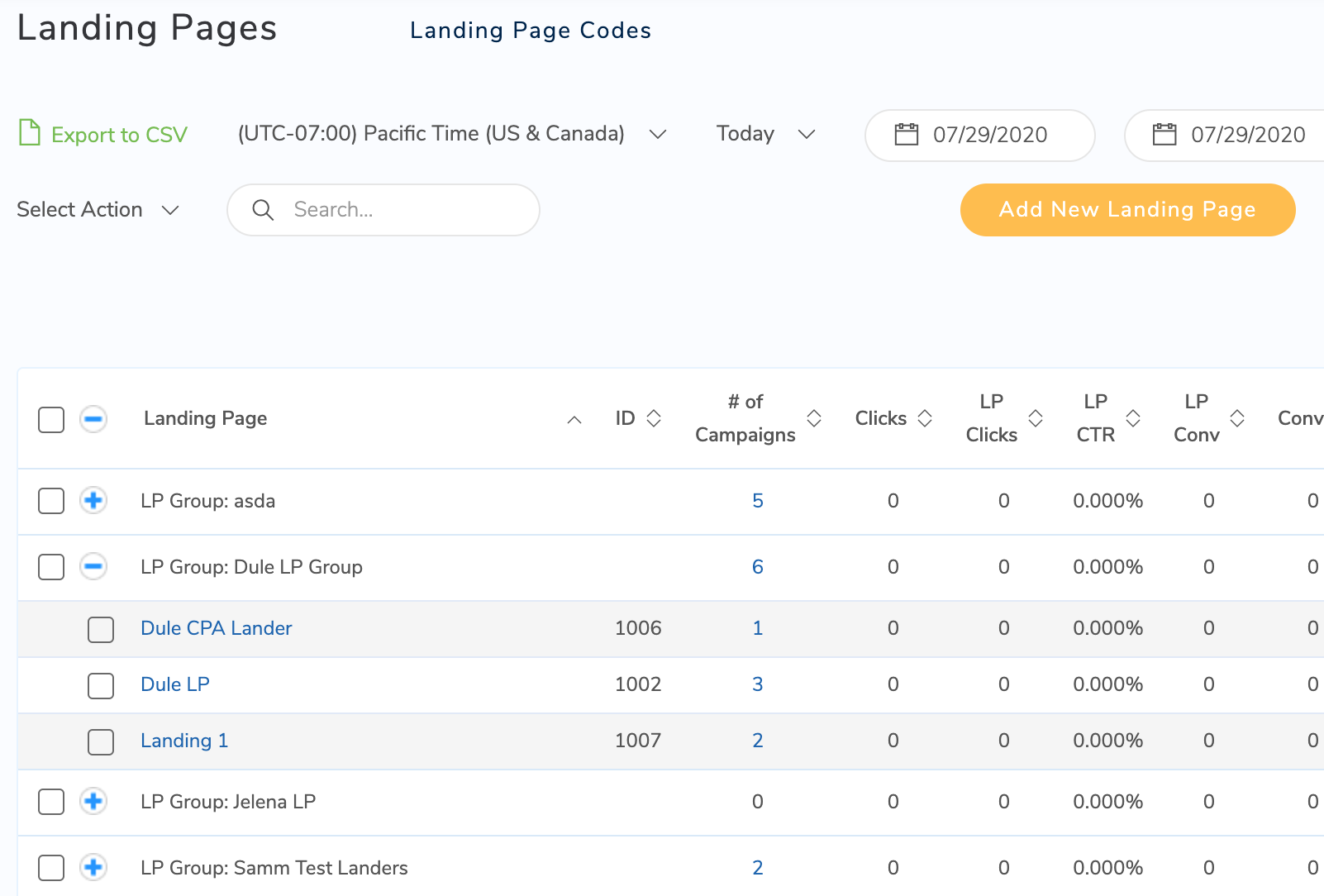 Similar to how our offers are set up, we've made sure that it's easy for you to make any needed changes to your set up.

Match Landing Page - This allows you to add 1 or more new landing pages to campaign(s) already running another landing page. This is helpful if you want to split test another landing page.
Swap Landing Pages - This allows you to take out a landing page that is currently in use for a different landing page on all relevant campaigns. This saves you from having to go in to every campaign to remove the old LP and add in the new.
Get Landing Page Code - We have multiple LP Codes that you can use (See our other support article for more on this here. If you want to link out to an offer on your landing page, you can pull the code to do so here.
CSV Insert - Lets you batch insert landing pages. Just fill in the required columns in the template and upload.
Additionally, you are able to batch edit landing pages: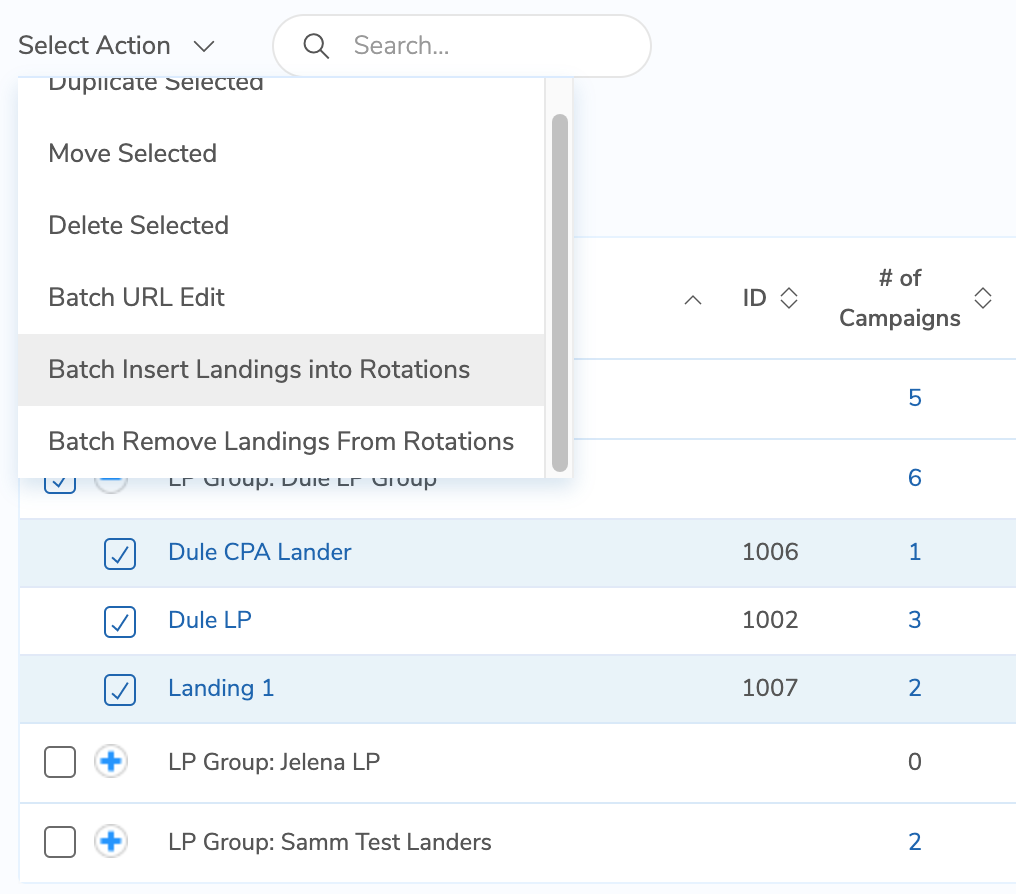 Just select the landing pages you want to batch edit and you can do one of the following:
Duplicate Selected - Easily replicate the landing page selected
Move Selected - Move the selected landing pages into a different LP Group
Delete Selected - Delete the selected Landing Pages
Batch URL Edit - If you have multiple Landing Pages using similar URLs that you need to edit (i.e. adding in an additional parameter), you can do so here rather than having to manually update every one.
Batch Insert into Rotations - Quickly add landing pages into rotations
Batch Remove From Rotations - Quickly remove landing pages from your rotations.
If you have any questions on set up or need assistance, please contact Support anytime and we would be happy to help you out.