If you will be utilizing a landing page before your offer page, it's important that you add in Thrive's click through code (Landing Page Code) to your landing page. This is what will allow you to track the clicks from the landing page to the offer itself. These clicks are tracked as LP Clicks in your reporting.
The click through Landing Page Code can be found under the Landing Page tab of your login --> Get LP Code.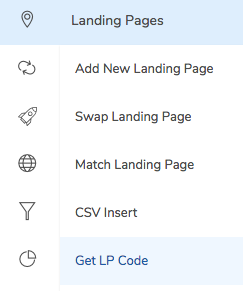 There are a few different code options to choose from, but the one at the top of this page will be your main click through code. This is a global code that can be used across all of your landing pages.

Another common option is the click through code if you will be linking out to multiple offers on the same landing page:

This area will walk you through coding your click through links to redirect to a specific offer by hardcoding on ?g=XXXX to the end of it, where XXXX is the offer ID.