To create a new landing page, also known as a pre-sell page, within ThriveTracker, follow these steps:
Access the 'Landing Pages' Option: In your Thrive installation, navigate to the 'Landing Pages' section.
Add a New Landing Page: Inside the 'Landing Pages' section, you will find the 'Add New Landing Page' option. Click on this to initiate the process.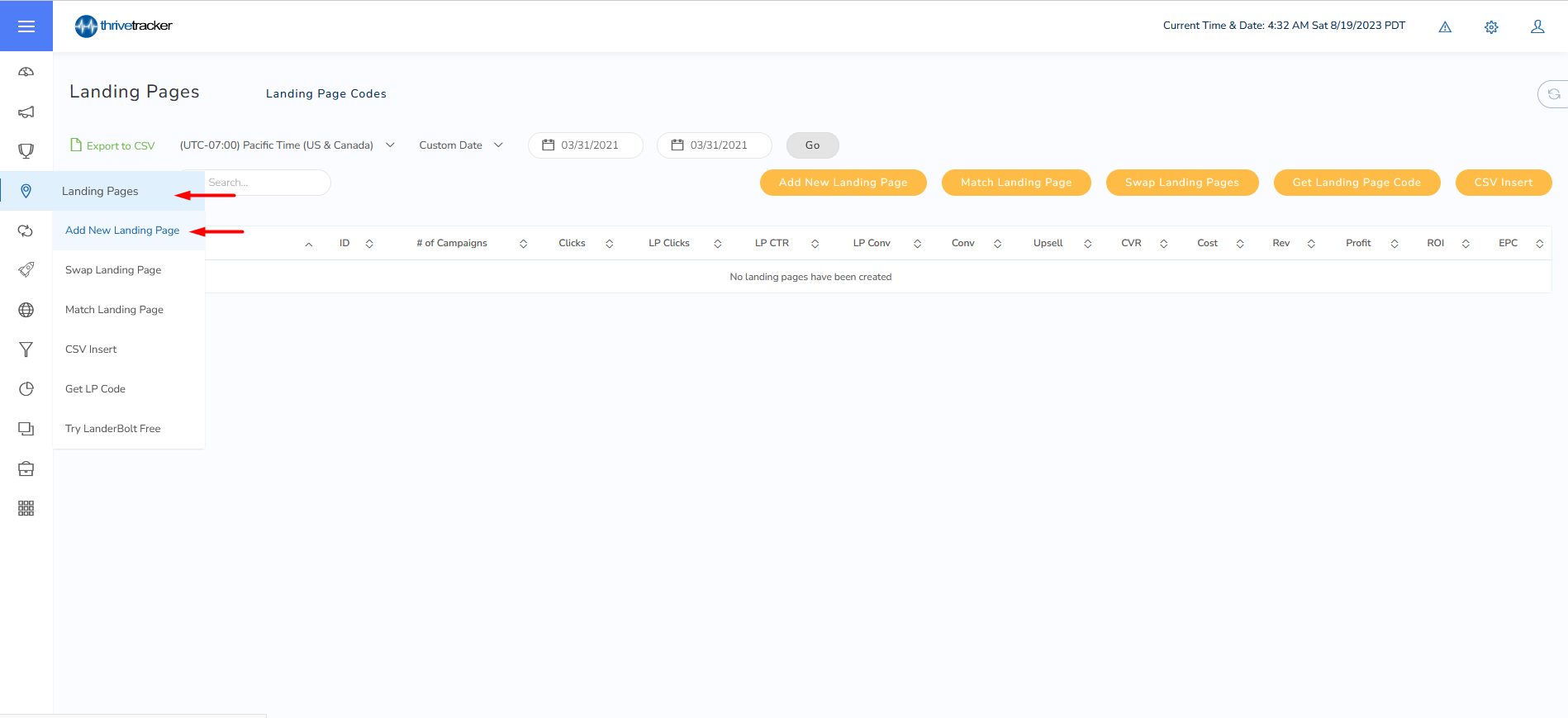 Configure Landing Page Details: A new popup window will appear, allowing you to configure the landing page details. Here, you can:
Name Your Landing Page: Provide a descriptive name for your landing page to easily identify it.

Assign to an LP Group: LP Groups help organize similar landing pages together for easier management.

Insert the LP URL: Specify the URL for your landing page.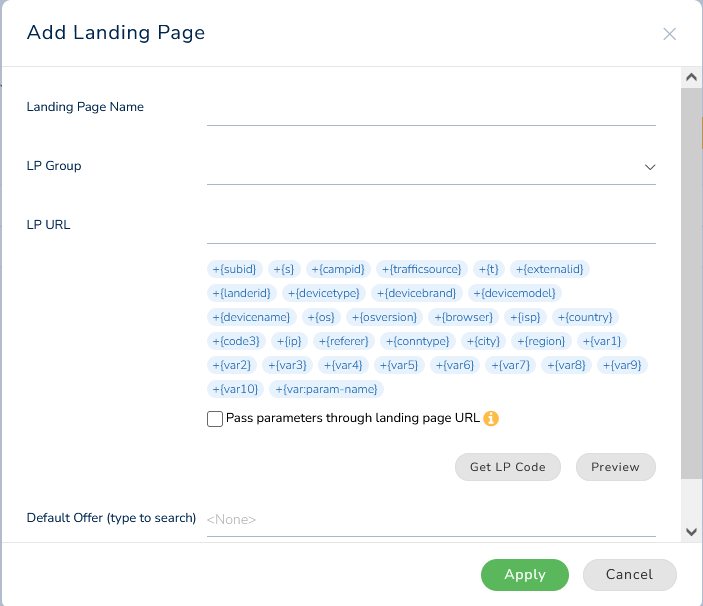 Utilize Variable Tokens: ThriveTracker offers various variable tokens that can be included in your landing page URL to pass information. If you're uncertain about the purpose of these tokens, hover your cursor over them to access brief descriptions.
Custom Variable Tokens: If you have questions regarding custom variable tokens set up at the traffic source level, refer to ThriveTracker's Support Article on Custom Variables Alternatively, you can submit a support ticket, and a team member will assist you.
Pass Parameters Through Landing Page URL: The checkbox labeled 'Pass parameters through landing page URL' provides an additional option to transmit all parameters sent by your Traffic Source through your Campaign URL, enhancing data transfer.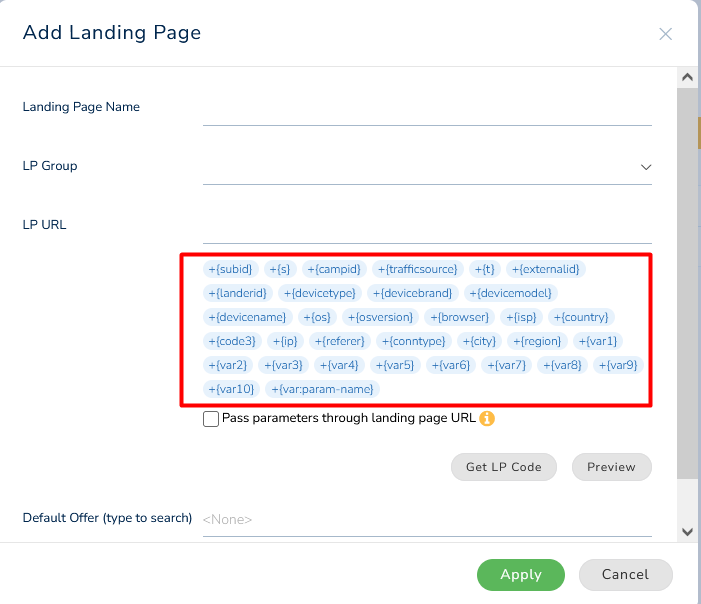 Default Offer Option: The 'Default Offer' option serves to direct traffic to a chosen offer if a visitor accesses your landing page URL directly, rather than through an ad or campaign link. This is particularly useful when visitors have bookmarked your landing page for future reference. Be cautious, as it may not work if your page is served via HTTPS but links out to an HTTP page. This field is not mandatory.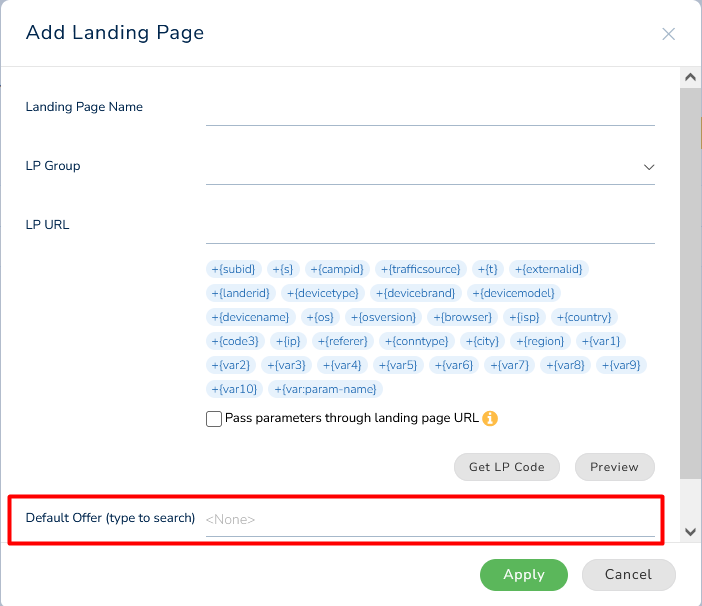 In addition to creating new landing pages, the 'Landing Pages' section offers other valuable options:
Match Landing Page: This feature allows you to add one or more new landing pages to campaigns that are already using a different landing page. It's beneficial for conducting split tests with alternative landing pages.

Swap Landing Pages: Swap Landing Pages permits you to replace a landing page that is currently in use with a different landing page across all relevant campaigns. This saves you from manually updating each campaign.

Get Landing Page Code: ThriveTracker provides various LP codes that can be used. If you want to link out to an offer on your landing page, you can retrieve the necessary code from this section.

CSV Insert: This feature allows you to batch insert multiple landing pages. You can fill in the required columns in the provided template and upload it for efficient bulk creation.
For any queries or assistance with setup, please don't hesitate to contact ThriveTracker Support
The support team is readily available to provide guidance and resolve any issues you may encounter during the process.