To create a new campaign within ThriveTracker, follow these steps:
Access the 'Create New Campaign' Option: Begin by navigating to the 'Campaigns' section and select 'Create New Campaign.'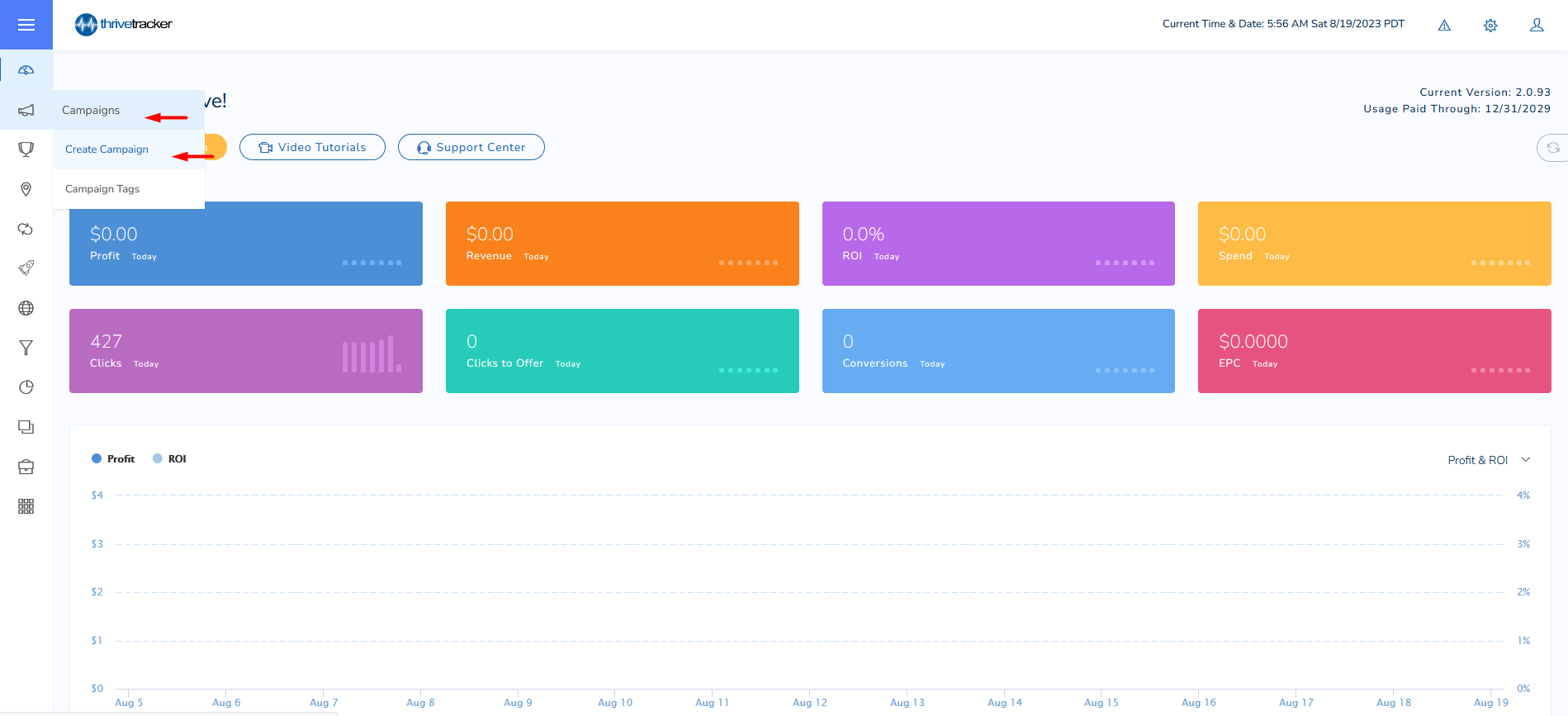 Campaign Configuration: A new page will open, allowing you to enter the necessary information and options for your campaign. The required fields include:
Campaign Name: Provide a distinctive and informative name for your campaign to facilitate easy identification.

Traffic Source: Choose the desired traffic source from the list of traffic sources you have created. This ensures that the campaign is correctly associated with the traffic source.

Campaign Type: Enter a campaign type, typically a short and descriptive label such as '300x250,' 'Mobile 100x100,' 'Popunder,' or similar. This helps in sorting and categorizing campaigns for easier management.
Optional Fields: There are several optional fields you can configure:
Cost Model: Select a cost model. The 'CPC' (Cost Per Click) model assigns the cost when a click is generated, whereas the 'CPA' (Cost Per Acquisition) model assigns the cost when a click converts into a desired action.

Dynamic Cost Feature: If applicable, use the "Dynamic Cost" feature to automatically calculate costs based on the payout and a predefined multiplier. This feature is particularly useful for real-time cost calculation based on various parameters.

Campaign Tags: Apply campaign tags to group campaigns and facilitate report retrieval. Multiple tags can be assigned to each campaign, making it easier to organize and analyze campaign data.

Custom Token: These values can be passed to any landing page triggered by an ad from this campaign. Custom tokens enable you to transmit custom, hard-coded variables to your landing page and offer pages, allowing for tailored data transfer.

Post-Back Pixels: This field is optional and primarily relevant if you need to post conversions to your traffic source on a per-campaign basis. If your traffic source requires different post-backs for each campaign, you can configure them here.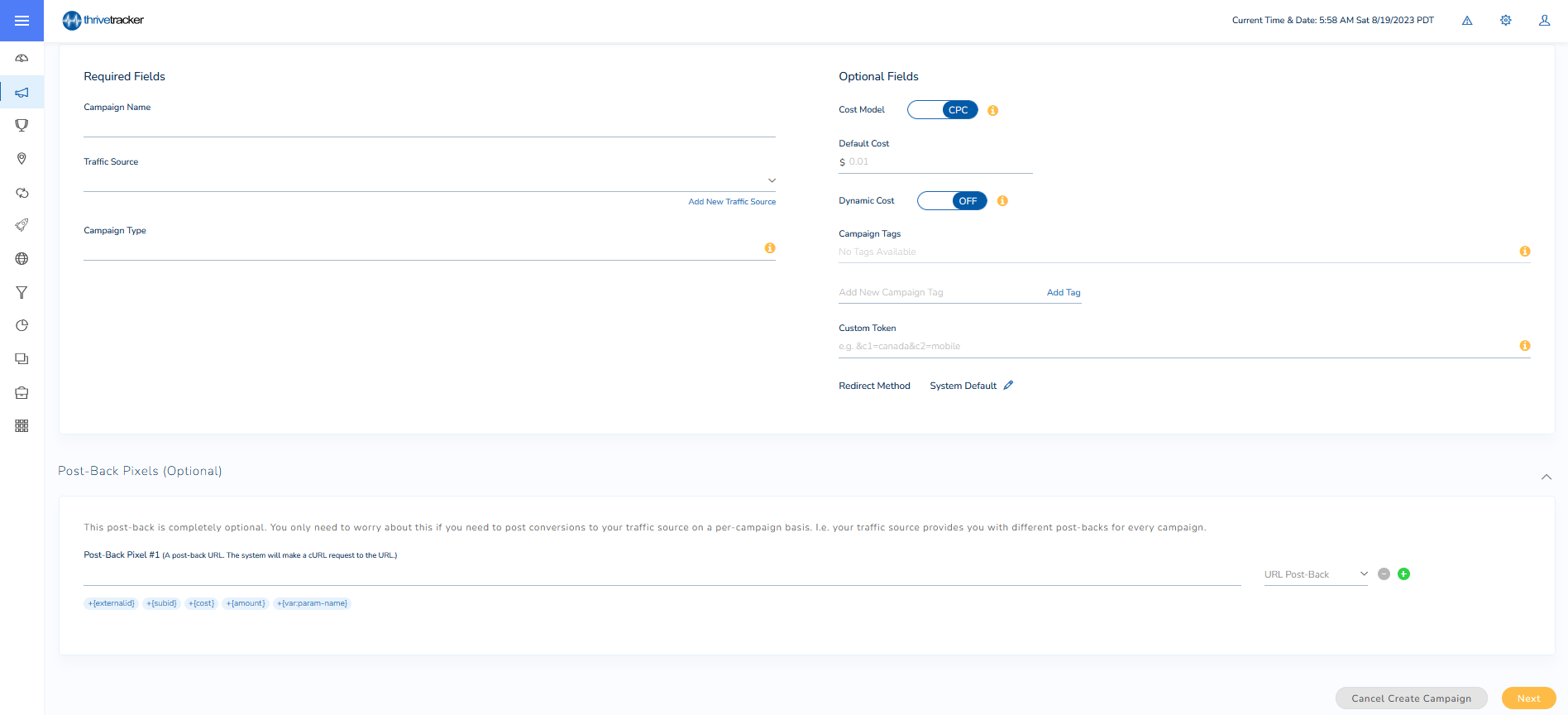 In the campaign creation process, the next step after clicking the 'Next' button is the configuration of Rotations. Rotations play a critical role in determining which offer(s) and landing page(s) are utilized within your campaign. If you already have existing campaigns set up, you have the choice of either using the same rotations from those campaigns in your new campaign, or you can start afresh and create a new rotation.
Rotations are distinct and independent entities that are added to campaigns. This separation allows for easy management and updates of rotations across multiple campaigns.
For each campaign, at least one offer must be configured within the rotation to provide a destination for redirection. Beyond that, it's optional to add additional offers or landing pages to the rotation. This flexibility allows you to either directly link your campaign to an offer or route traffic from your campaign to a landing page and then to an offer.
In this tutorial, we will guide you through the process of creating a new rotation. By selecting the 'Create New Rotation' option, you will be able to specify the rotation's name (by default, it will be campaign's name), assign it to a group for organizational purposes, and add the desired offers and landing pages to the rotation. This step ensures that your campaign is equipped with the necessary components to effectively manage and direct traffic to the intended destinations.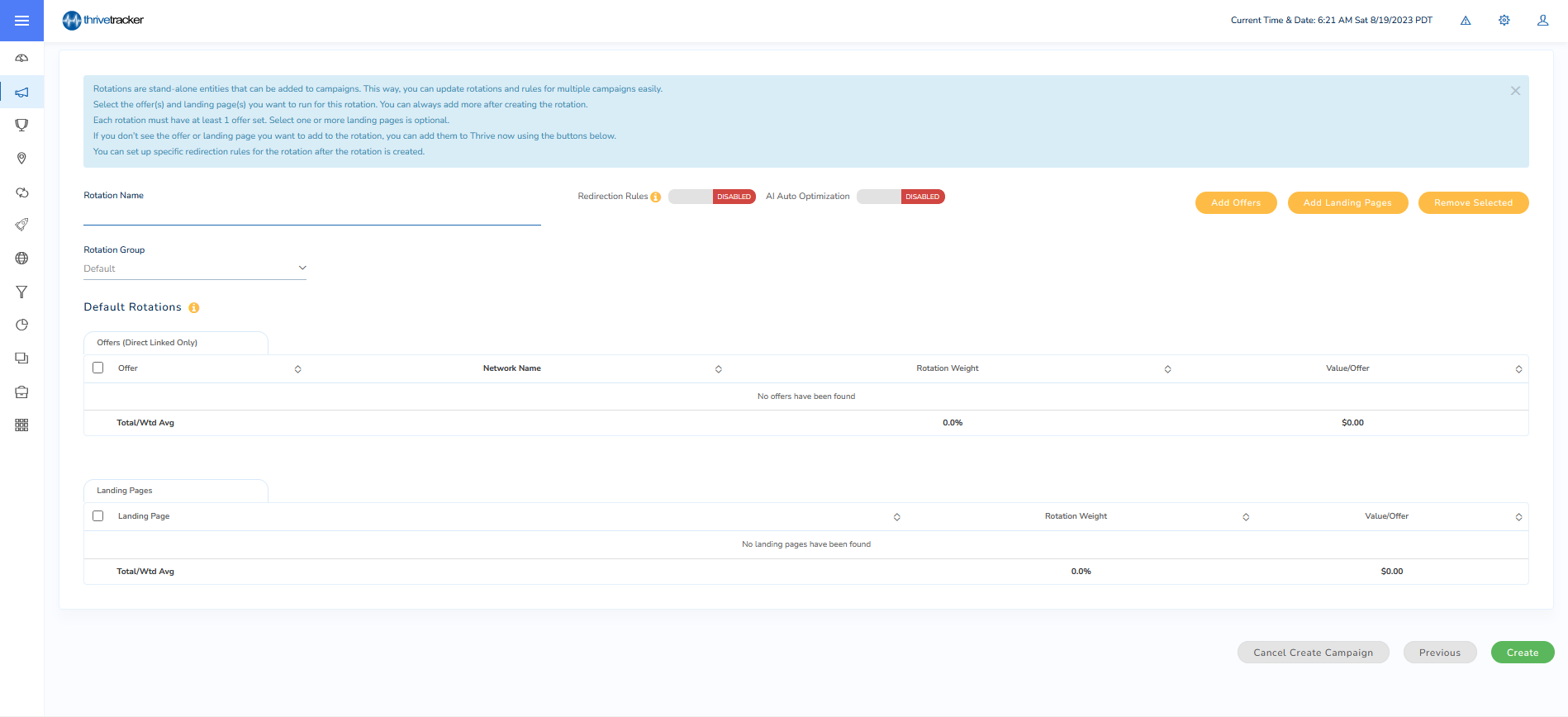 To add a landing page to your Campaign Rotation, follow these steps:
Click on the 'Add Landing Pages' option.

Select the desired landing page you wish to include.

Click the 'Add Selected to Rotation' button.
: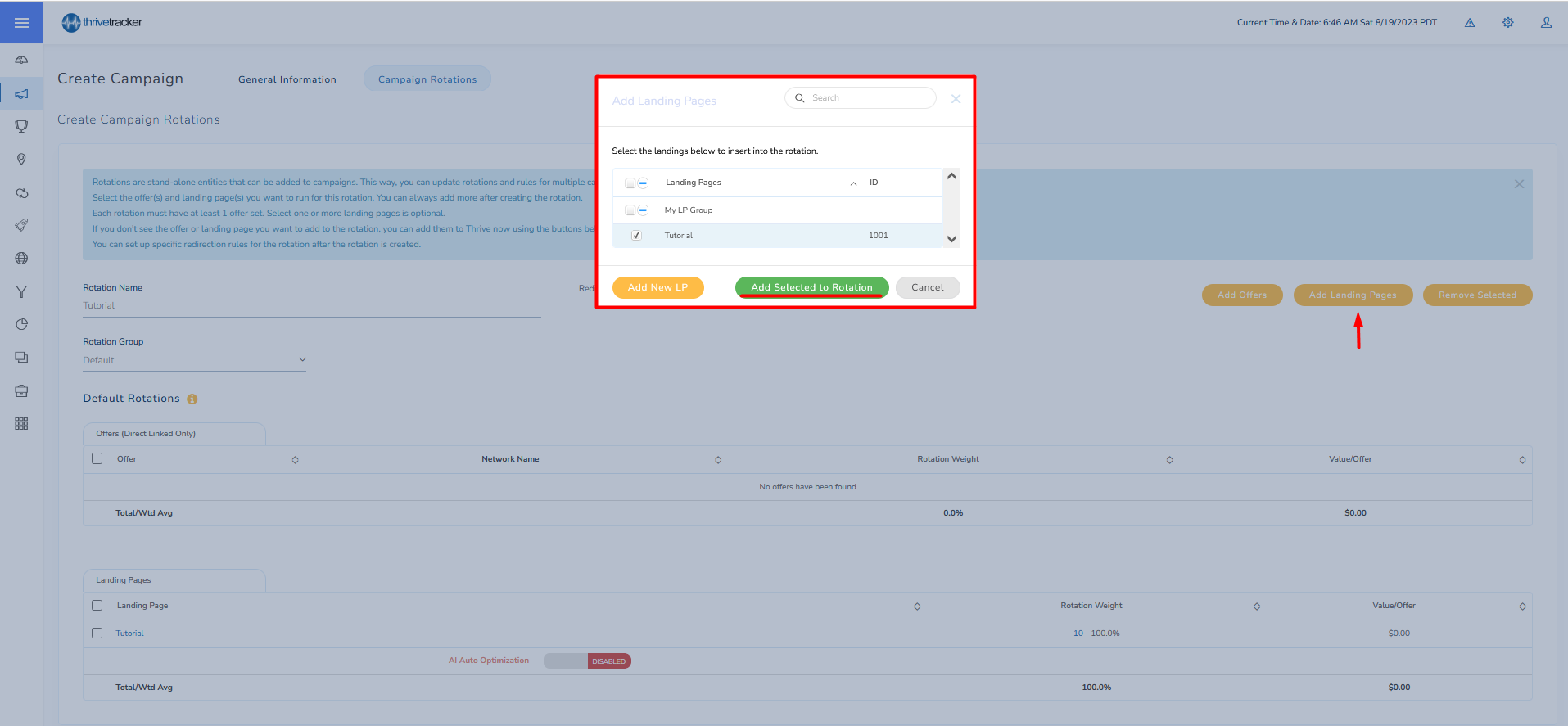 Once completed, your chosen landing page will be added to the 'Landing Pages' section within your Campaign Rotation: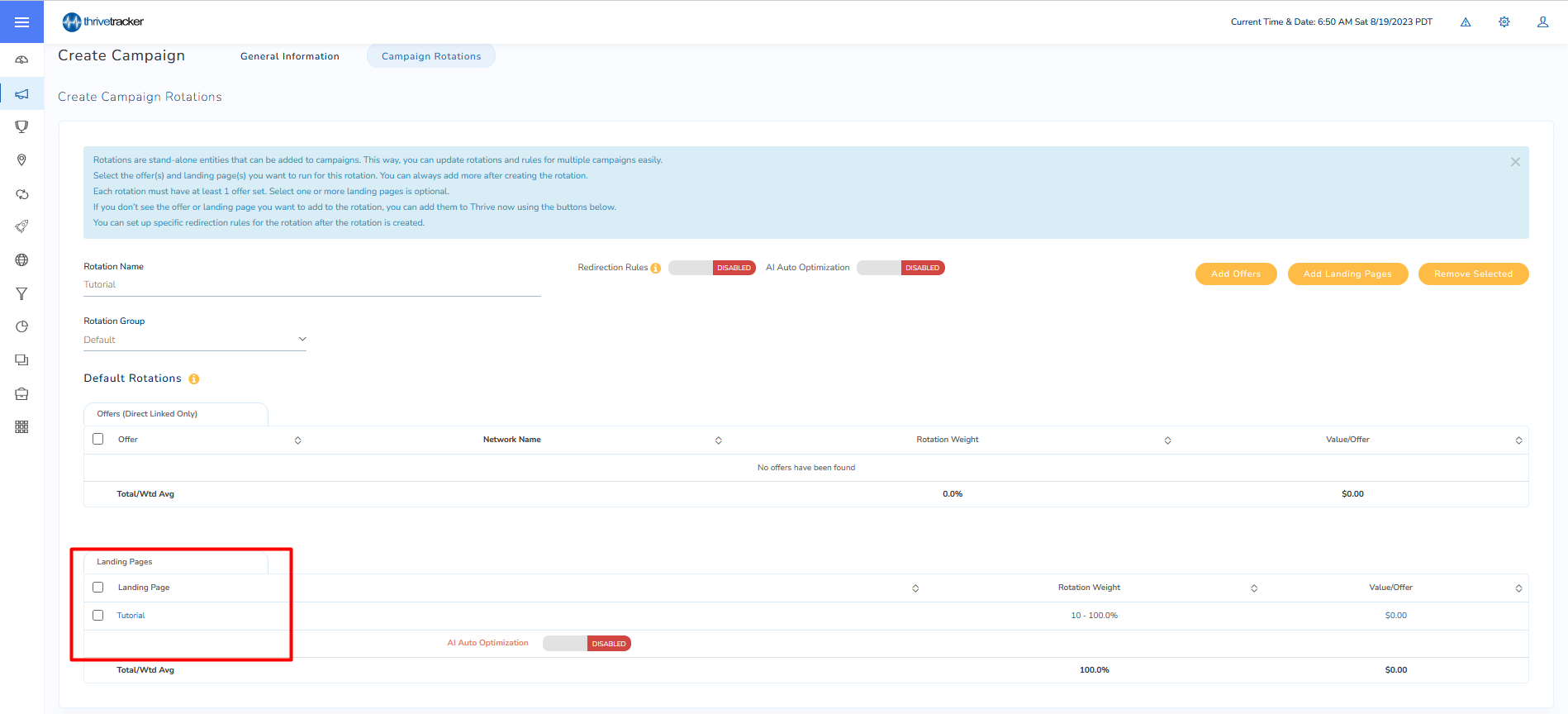 To add an offer to your rotation, take these steps:
Click the 'Add Offers' button, which will open a new pop-up window.

In the popup, choose the offer you want to add to your campaign rotation.

Decide whether you want to add the offer as 'Direct Linking' or under a landing page.
'Direct Linking' will redirect every visitor passing through your Campaign URL directly to the selected Offer.

Adding the offer to a 'Landing Page' will redirect visitors through your Campaign URL to your Landing Page first, and then to the selected offer.
In this example, we will add an offer to the Landing Page by selecting 'Add selected to the Landing page.':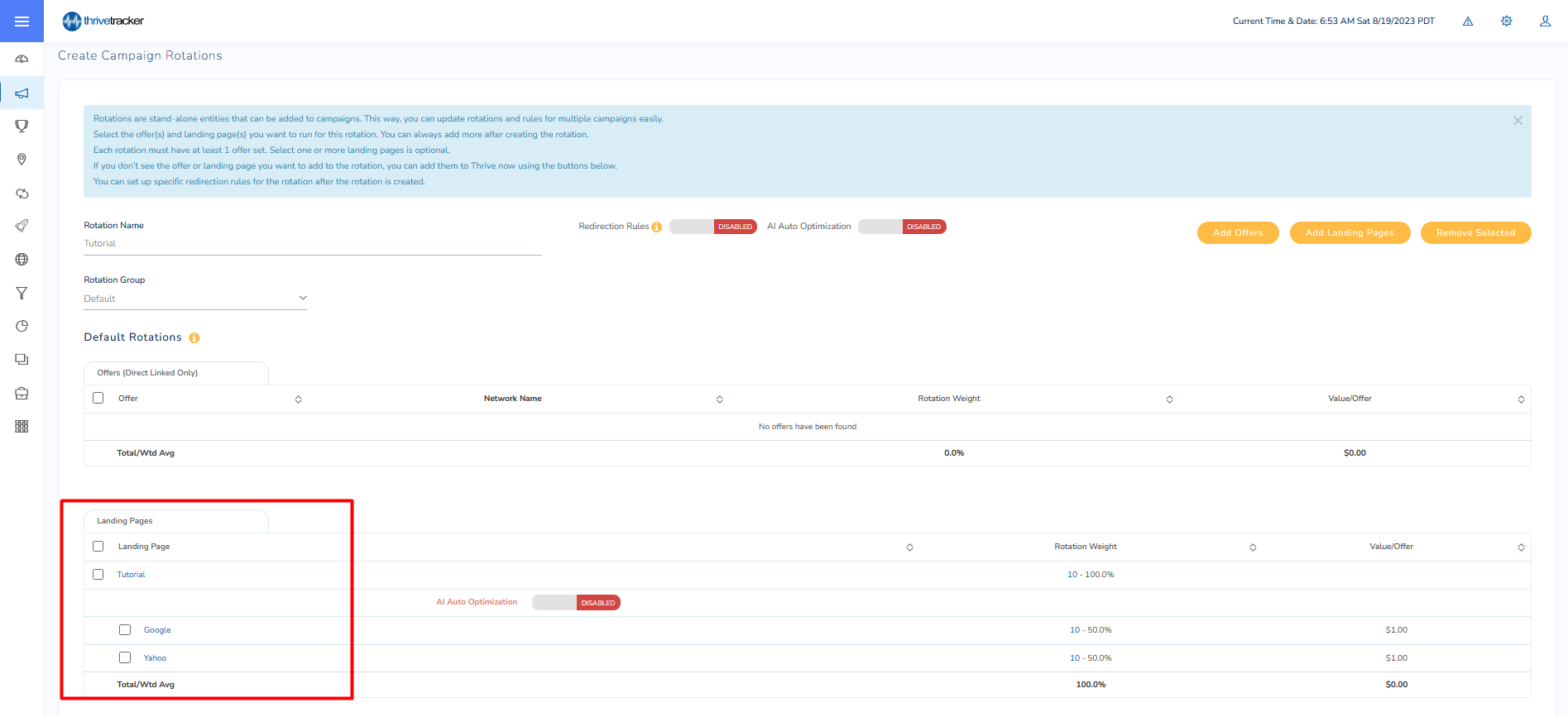 ThriveTracker provides the flexibility to set rotation weights, allowing you to determine how frequently an offer or landing page will appear in rotation. You can adjust these rotation weights to create the desired distribution ratio for each component. For instance, if both offers have a rotation weight of 50%, it means that visitors will be redirected to each offer equally—one visitor to one offer, the next to the other, and so on.
To complete the campaign creation process, click the 'Create Campaign' button. In this case, the end result will be a campaign that initially redirects visitors to the landing page and subsequently from the landing page to the offers.
: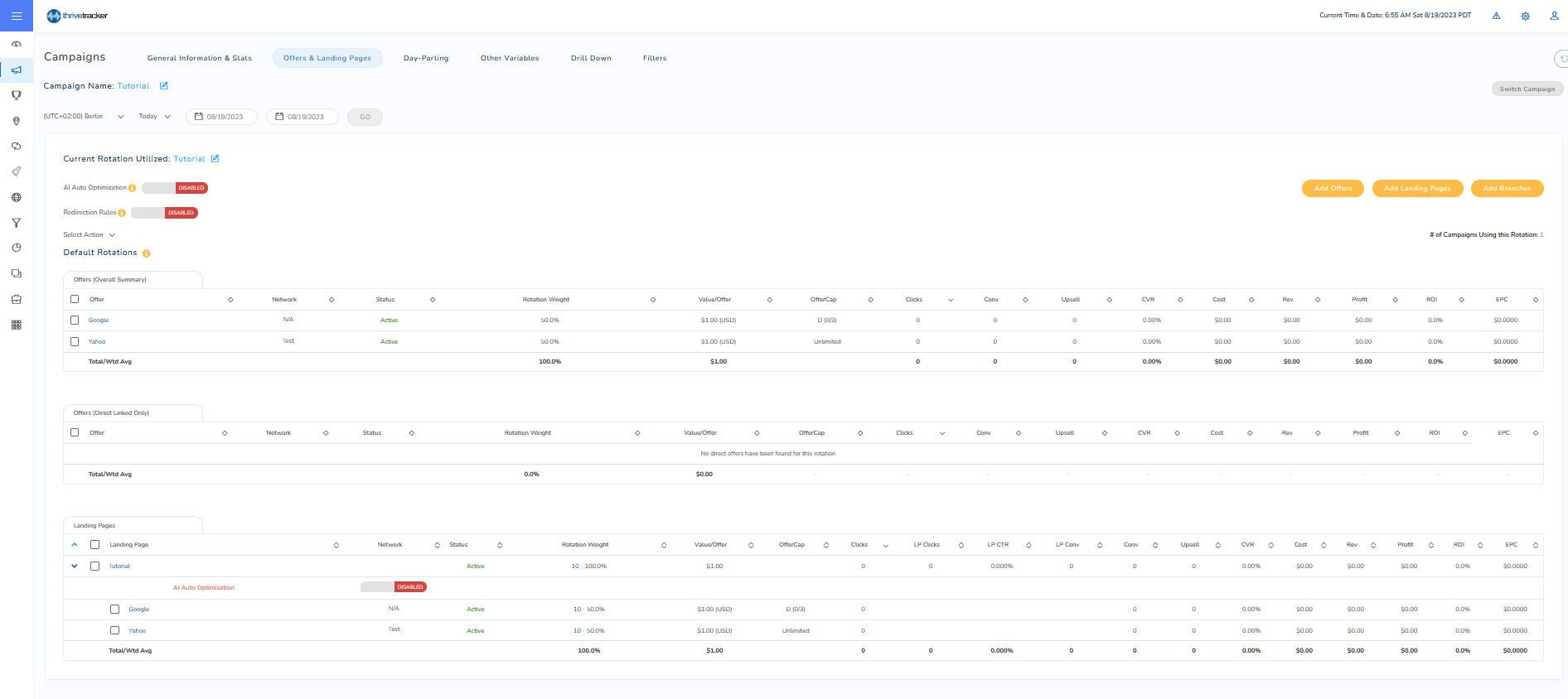 This setup enables you to efficiently manage and direct traffic through your campaign, controlling the flow from landing pages to offers based on your specified configuration and rotation weights.
If you have any questions on setup or need assistance, please contact Support and we would be happy to help you out.