What is ThriveTracker's AI Auto Optimization?
AI Auto Optimization allows you to have our system automatically adjust the rotation weights of your landing pages and offers in a campaign to give you a hands-off method for optimizing your traffic distribution. Instead of spending time manually monitoring and adjusting your campaign's rotation weights, ThriveTracker will be able to calculate which landing pages and offers are performing optimally and automatically make the adjustments for you.
How AI Works
ThriveTracker's AI Auto Optimization is utilizing Bayesian statistics. Our system will be analyzing data you set for a given historical time period and automatically adjusting the rotation weights to make sure the best performing offer/landing page is given the highest percentage. You can have the system analyze by ROI, CVR, or EPC and from any historical time period from 6 hours back up to 7 days back.
____________________________________________________________________________________________________
Getting Started
Before AI can optimize and adjust your rotation weights for you, there are a few quick steps you will want to take first to get it set up and ready to run.
You can turn on AI for any campaign rotation, either in the Rotations Tab or inside of a new/existing campaign.
Please note that while our rotations are stand alone entities that you can normally add to more than 1 campaign, any AI enabled rotation can only be tied to a single campaign. This is because the algorithm is analyzing data from that specific rotation and if added to 2+ offers, that each have their own stats, it would cause a confusion on which to analyze. If you wish to use the same rotation across multiple campaigns, please duplicate your rotation so that each can be assigned to 1 campaign.
1. First, either on your rotations tab or inside of a specific campaign, Add a New Rotation.

2. On the rotations page, add in any landing pages and offers to your rotation first. You can add in landing pages with offers tied to them and/or direct linked offers. Make sure you have at least 2+ offers or landers in each group you want to use AI for. Once added, you should see your landing pages and offers set with the default rotation weights. Before turning on AI, we would recommend setting these to a higher weight for more accurate results once you turn on AI (in the 100 range for each). You can update the weights by clicking on the hyperlinked rotation weight value.

3. Save your campaign rotation before turning on AI.

4. You are now ready to turn on AI by changing the AI Auto Optimization toggle to Enabled.

You'll notice that there is a toggle at the top of the rotation page, as well as one by any landing page offer groups you may have set up. You can turn them all on, or only some of them. The difference is:
Main AI Toggle (top of page) - Controls direct linked offers and any landing pages
AI Toggles near offer groups tied to landing pages - Controls those offers below the toggle only

Once you enable AI, you will see your weights change to:
(Auto Optimized) - *Pending Calculation.






This appears when our system is calculating the rotation weights. This takes around 10-15 minutes, or could be slightly less/more depending on the system load. Once weights are calculated by the system, you will see this switch to Auto Optimized.



5. Adjust your AI Settings (bottom of rotations page):




Historical Data Time Period - This is how far back you want AI to analyze the campaign rotation for. You can choose 6 hours, 24 hours, or anywhere from 2 days up to 7 days.

Calculation Method - Select the method you want AI to analyze by. You can choose from ROI, CVR, or EPC. If choosing ROI please make sure to have a cost value on all incoming clicks, whether you set a default cost on the campaign or if your traffic source will be passing it to us via the campaign URL.

Minimum Threshold - If you want our system to stop traffic to an offer if it's below a certain threshold amount, you can set that here. For example, if you want anything under the 20 percent threshold to stop receiving traffic, set it to 20.
These settings can also be adjusted at any time once traffic starts.
6. If you want to set a minimum click count on any landing page or offer, you can do so by clicking on the Weight Value next to that specific offer or landing page. This will bring up the below modal: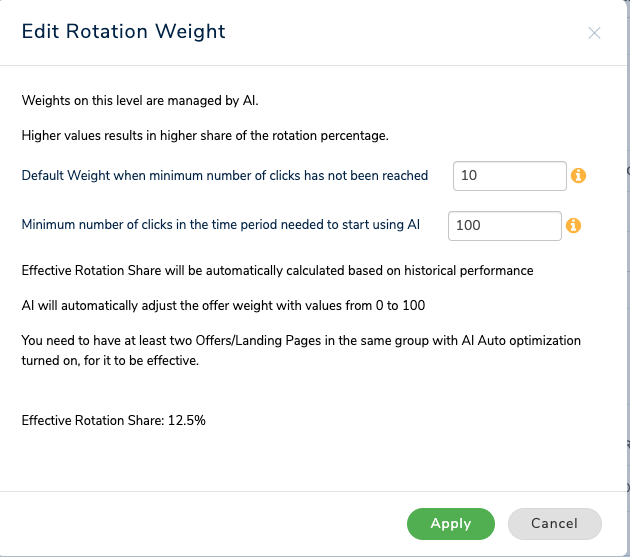 If you want your offer to reach 100 clicks during your selected time period before AI kicks in, set the clicks to 100 here. You will also want to set the default weight for those 100 clicks. If you set the weight at 10, your offer would stay at a weight of 10 (12.5% rotation share in this example) up until it reaches those 100 clicks. Once it reaches the 100 clicks, AI will then kick in and adjust the weights for you.
This is useful for any new offers that get added in so that they can gather some data before using AI. It is also helpful if an offer pauses and then resumes.
If you set a minimum click count and default weight, you will see your landing pages/offers set to *using default weight up until the time that click count is met and AI kicks in.
Once you have the above set up, you should be ready to watch AI in action.
Want to view a walk through of how to enable AI? Check out the video below (expand to full size)
____________________________________________________________________________________________________
Can I Use AI With More Complex Funnels?
Absolutely! AI is available in your default rotation as well as for any redirection rules and branches.
If you need to redirect traffic to a different set of landing pages/offers based on criteria, like device type, browser, region, etc.. you can use our redirection rules to do so. Once you add your landing pages and offers to your new rule, you can enable AI the same way as you would on your default rotation using the steps outlined above.
If you have a more complex flow, where you need to set up branches for different flows of traffic, you can add as many branches you need. If there is more than 1 offer on a branch, you can enable AI. AI will be specific to each branch that you create.
Please note that the AI settings you select on the rotation will be the same across your default rotation, redirection rules, and branches. For example, if you set up AI to use CVR for the past 24 hours, that is the setting that will be used no matter which part of the rotation. You won't be able to use CVR on the default rotation and EPC on the redirection rules.
Want to view a walk through of how to enable AI on more complex funnels? Check out the video below (expand to full size)
____________________________________________________________________________________________________
Where to View AI Updates
1. The first would be by pulling up your campaign rotation and looking at the report using the settings you have selected for AI to pull from.
Example: If you set up your AI Settings to be for 24hours and ROI, you could adjust your date/time dropdown to match the 24 hours and then check the ROI column and see what weight each landing page/offer is set to.
Important: AI calculates by a specific range, defined by your AI settings. If you set your historical data time period to 24 hours, AI is pulling exactly 24 hours back from the current time. When viewing stats in the campaign rotation, please make sure to not only select the date, but the time too.
2. You can also use our Offer Weight Timeline Chart to view changes made over time. You will see these charts next to any of the AI toggle buttons. The chart next to the AI toggle at the top will be for your direct offer and landing pages. The charts next to the AI toggles under the landing pages will be for those offers in that group, linked to the landing page. You can also view the timeline chart in any redirection rule and branch.
Want to view a walk through of the reports? Check out the video below (expand to full size)
____________________________________________________________________________________________________
Helpful Tips and FAQs
Can I use AI with clicks only?
No, the AI feature uses conversion data to find your best performing offers and landing pages and to adjust the rotation weights.



Can I update the AI Settings on a rotation at any time?
Yes, you can definitely change the settings at any given time. Thrive will automatically adjust to pull for the new data selections.



Can I use different calculation methods for landing pages vs offers? What about default rotations vs. redirection rules or branches?
The calculation method you select in your AI settings will apply to all of the AI enabled landing pages and offers, no matter if they are in a default rotation, redirection rule, or a branch.

Can I add in new landing pages/offers at any time?
Yes, you can still add in any new landing pages/offers to your campaign rotation. They will be set to pending calculation until the system can calculate the weights. Make sure to set your minimum number of clicks and default weight too. This allows the new landing page/offer to gather some data before AI kicks in and gives it a better chance against already performing landing pages/offers.



When looking at my rotation report or offer weight timeline chart, how should I pull the data up?
We recommend for the most accurate results, that you not only pull by the date, but also by the time. For example, if your settings are 24 hours ROI, and you are checking reports at 10am, AI is going to be pulling 24 hours back from the current 10am. So in your report, you would want to pull the prior day at 10am as your start date and today at the current time as the end date.


Should I set my default weights before turning on AI?
Yes, we would recommend setting your weights before turning on AI and making sure to set them in the range of 100 per offer/landing page. This will allow for better accuracy once AI is enabled.


Will the algorithm prefer any specific offer/landing page in the beginning?
If using CVR as your calculation method, the algorithm may initially prefer those offers/landing pages with lower clicks (i.e. newer offers in the rotation) in order to gain enough information for evaluation. Once they get a sufficient number of clicks and data, the algorithm will be able to adjust to reflect more realistically. If you don't want these new offers/landing pages to receive a higher weight early on, make sure to set a default weight and minimum click count.
If you have any questions on the AI set up or need assistance, please contact Support anytime and we would be happy to help you out.
If you're new to ThriveTracker, check out our FREE 14-day trial to experience the power of our AI first-hand.