Automation is becoming larger in the performance marketing space and for good reason. ThriveTracker is excited to announce that we are now integrated with AdGenius.ai, an automation tool that allows you to better optimize and manage your native ads.
AdGenius.ai has done the work for you so that you can easily integrate with the largest native traffic sources in the industry including Taboola, Outbrain, MGID, content.ad and Revcontent, while also linking to your ThriveTracker account.
Some of AdGenius.ai's popular features include:
Auto Bidding to allow you to adjust bids automatically based on campaign's real time performance.
Auto Blocking to automatically block any placements that aren't performing as well as you need them to.
An Ad Uploader tool so that you can create multiple ad combinations for multiple campaigns in just a few easy clicks.
A day parting tool that allows you to boost or pause campaigns on any given day or time when you know they perform best or underperform.
Budget Monitoring Notifications - Never miss an approaching budget again.
The most exciting feature for our Thrive users is that AdGenius.ai also allows you to automatically update the Default CPC for any of your native campaigns in Thrive. While not all Native sources have macros currently available to push this through, AdGenius makes it easy to make sure you are tracking the most accurate CPC. This CPC tool is only available for Thrive users right now too!
Interested in signing up for AdGenius.ai? You can sign up here: https://my.adgenius.ai/signup/thrive
Getting Started
Linking Your Traffic Source with AdGenius
Go to https://my.adgenius.ai/link-account
Select "Link Traffic Source Account" and select the native source you wish to link. It will ask you a few simple credential questions.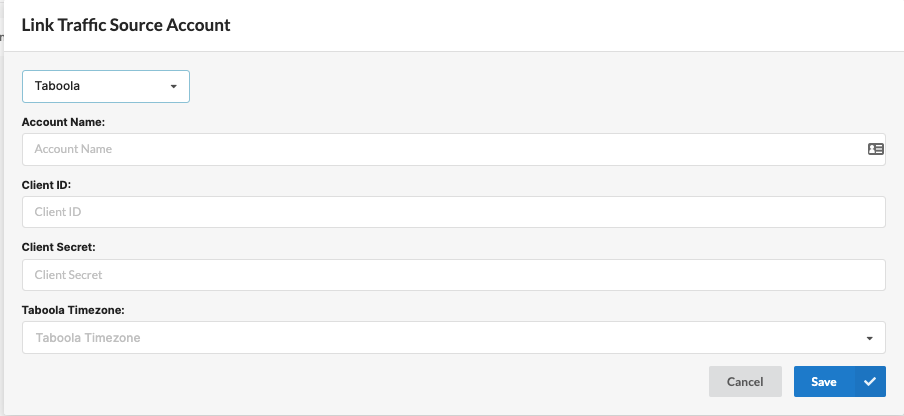 Linking ThriveTracker with AdGenius
Next, you will want to link AdGenius.ai with ThriveTracker. To do so, simply head toGo to https://my.adgenius.ai/link-account and select ThriveTracker from the dropdown. You can enter Thrive's API information and TimeZone here.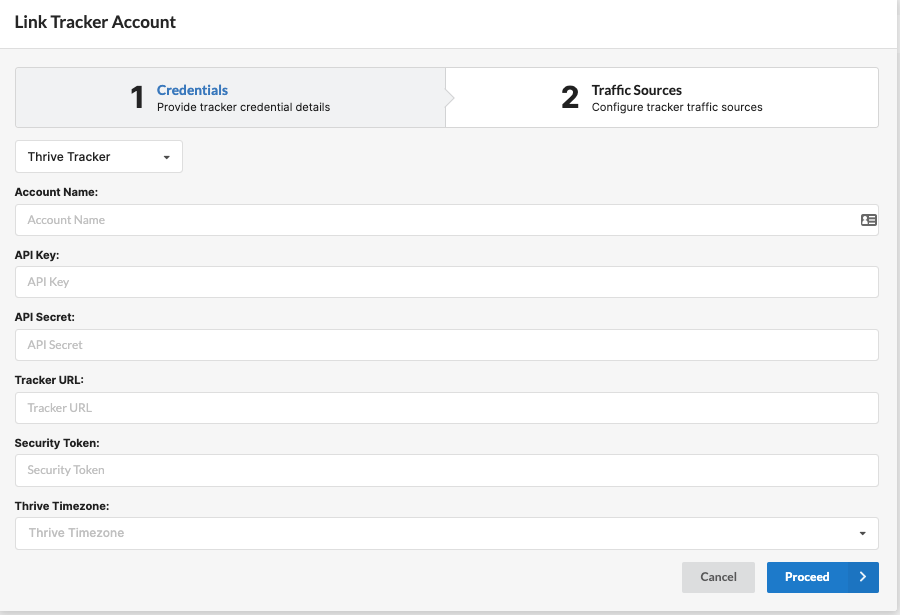 All of the API information can be found inside of your Thrive account under the Gear icon in the top right corner --> API Access.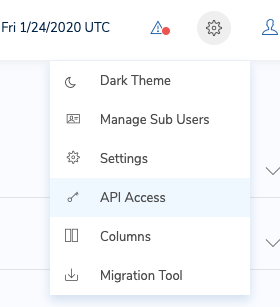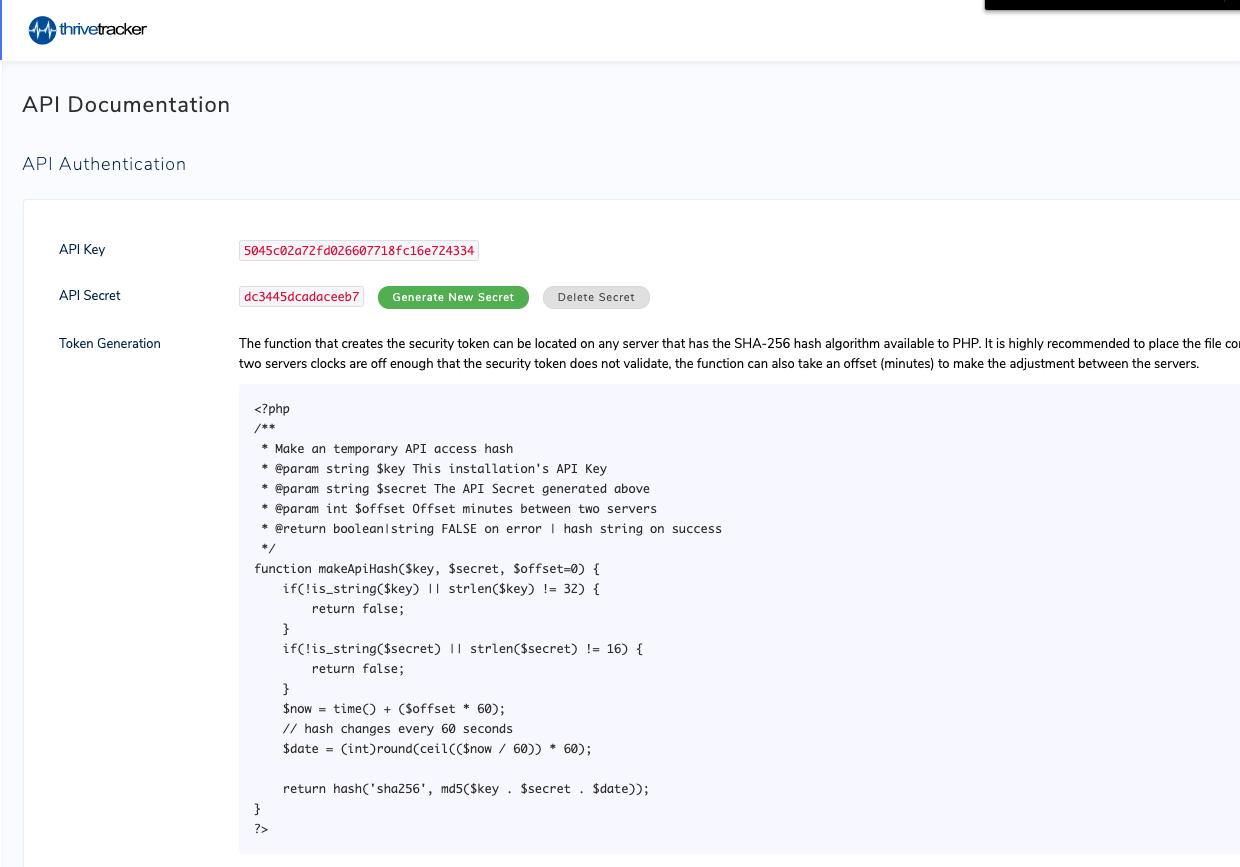 Once you enter your API information into AdGenius, hit Proceed. This will then take you to a modal where it detects any of your native sources from your Thrive account. Double check all of the parameters are correct, check "Save" and Done.
Link Your Traffic Source And Thrive Campaigns With AdGenius
Next, you will want to link your campaigns from the traffic source with your ThriveTracker campaigns, by going to the Link Campaign option in your left hand menu. This is an important step so that you can view stats in AdGenius and start using their optimization features.

How to Receive Live Default CPC Updates
With AdGenius.ai, you can pull in the accurate CPC value from your native source, through AdGenius, and straight into Thrive for you. That means no more manual cost updates! If you would like to enable this option, just email their team at ask@adgenius.ai and they can turn it on for you.
AdGenius Features
Dashboard
AdGenius.ai's dashboard allows you to view all of your key metrics in one spot. You can see an overview for all campaigns, traffic sources, and trackers, or you can filter by specific campaigns, traffic source, and tracker as well as by multiple metric options.
Campaigns
The campaigns tab lets you see a visual representation of your campaign performance. You can view by all campaigns or by filtering by specific traffic source and tracker.
You'll also see the daily cap indicator next to each campaign so you can keep track of your budgets. The indicator will fill up as your spend increases. If you reach your daily threshold (that you add in your account settings), the indicator will turn red, alerting you so that you can easily pause right there.
If you need to change the campaign default CPC, you can do so here by clicking the pencil icon. Changes made here will also change the campaign's default bid in the traffic source.
Campaign Performance
Inside of each campaign, you can view reporting and control your campaign's as needed. You can see overall campaign performance, or visit their Ad and Placement tabs.
Need to block an underperforming ad or placement? Simply set up a rule to block them.
Need to increase bids for those most valuable placements? Set a rule!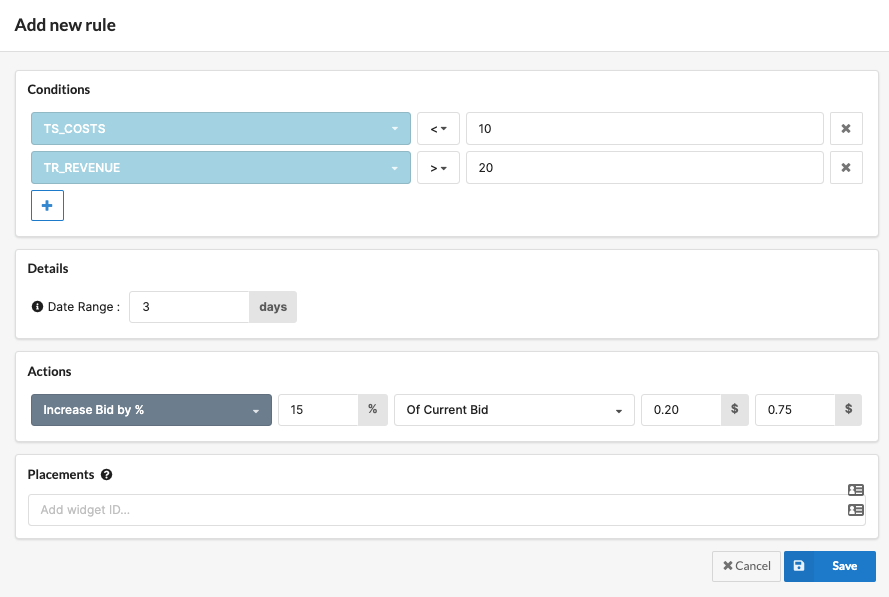 You can also fully control your campaign's schedule by setting day parting to increase, decrease, or even pause the campaign during specific days and times.
Ad Uploader
Tired of individually loading in ads for different campaigns? Use their ad uploader tool to batch upload ads to multiple campaigns using just a few clicks.
Upload the images you want to use, then select the campaigns to upload to, and the titles for the headlines. You can even upload to campaigns of different traffic sources.
It will let you preview the different combinations and then upload the ads to your selected campaigns.
Want to see more? Reach out to their team here to schedule a demo or sign up by visiting here.
For those coming from AdGenius and looking to try ThriveTracker for the first time, we're looking forward to working with you and we've got a special offer for you to enjoy. For more information, send an email with your interest to support@thrivetracker.com and we'll get you hooked up!