Thrive's Redirection Rules allow you to redirect visitors to different landing pages or offers based on specific criteria met. These rules allow you to send visitors to more relevant pages based on criteria like location or device.
Inside of a campaign rotation you will always have your Default Rotation. This is where you add your landing page(s) and offer(s) that you want visitors sent to without any targeting options. If traffic does not meet any rule based criteria, it will be sent to the default rotation.
Redirection Rules are optional inside of a campaign rotation, but you can add as many rules as you need in order to target different traffic.
Redirect Flow
When a click comes through a Thrive campaign, the traffic is first evaluated against any rules set up in the campaign rotation. If Thrive determines that the traffic matches a specific criteria, it will be directed in order of priority set on the redirection rules. If Thrive determines no criteria has been met, it will then send it to the default rotation.
Setting Up Redirection Rules
Step 1: Enable Rules
To enable Redirection Rules, navigate to the Offers & Landing Pages tab of your campaign (your campaign rotation) and click on the Redirection Rules Toggle: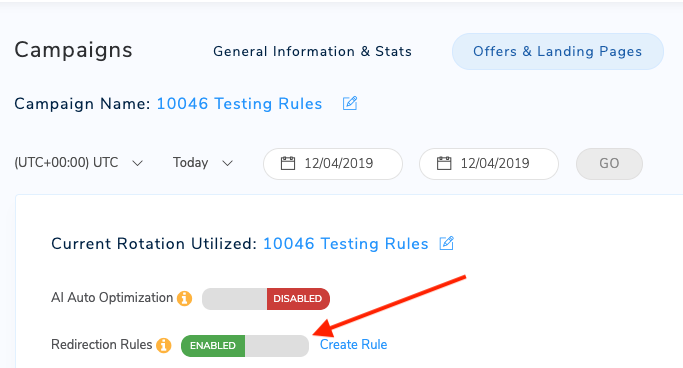 Step 2: Create Rule
Click on Create Rule.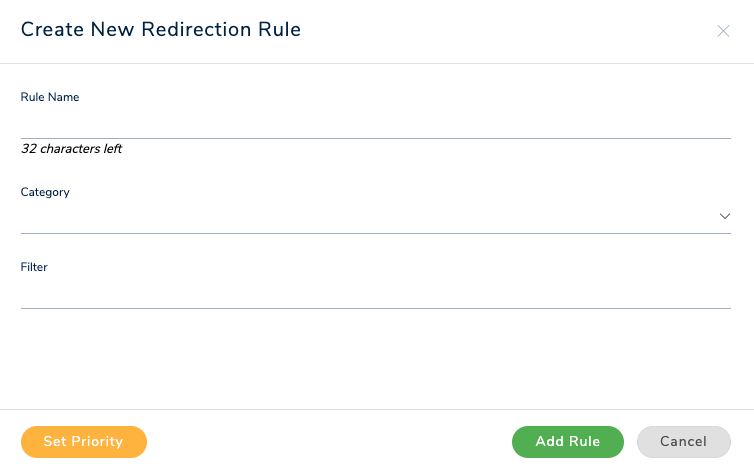 Set a Rule Name
Select the category that you wish to target by
Add your filter.
You can select from one of the below categories:
Operating System
Browser
Device Type
ISP/Carrier
City
Region
Country
IP Address
URL Parameters
Referrer
Time of Day
Day of Week
Connection Type
The filter is the specific criteria that must be met in order for traffic to redirect to the rule.
As an example, let's say we want to redirect mobile traffic to a different offer. We would create a rule with the category as Device Type and our Filter would be Mobile: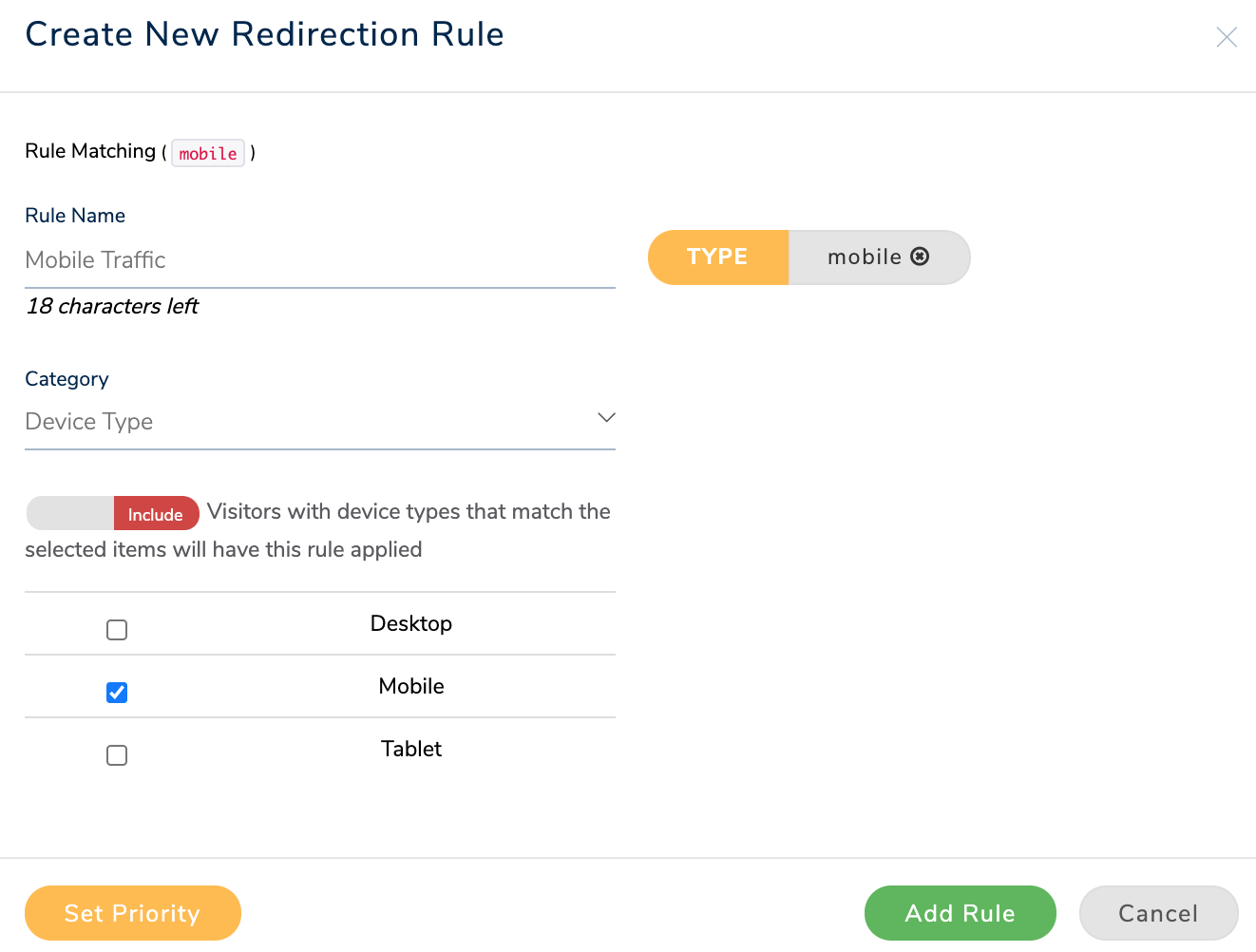 By default, rules will be set to include the criteria, but you can also switch this to Exclude if you wish to capture all traffic other than Mobile.
Make sure to set the priority and then select Add Rule.
Step 3: Add Landing Pages and Offers to the Rule
Now that you have the Rule created, you need to add the landing pages and/or offers you want the traffic to redirect to.
Make sure you select the Rule tab you want to add the landing page or offer to and then select Add Offers or Add Landing Pages.

Step 4: Add Landing Pages and Offers to Default Rotation
Make sure you add landing pages and/or offers to your default rotation too so that traffic that does not meet any set criteria has a place to redirect to.
______________________________________________________________________________________


How To Create Rules for Custom Variables From Traffic Sources
If you want to redirect traffic to different offers based on custom variables being passed from your traffic source, like different keywords, you can use Thrive's Redirect Rules.
You can create a redirection rule using the "URL Parameters" rule type: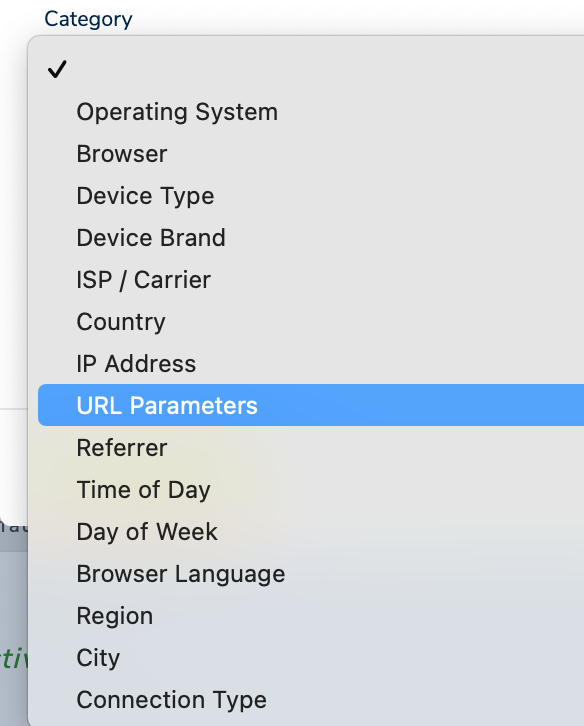 For example, let's say you want to redirect visitors when the parameter keyword=something.
Then, you would set up the rule like this: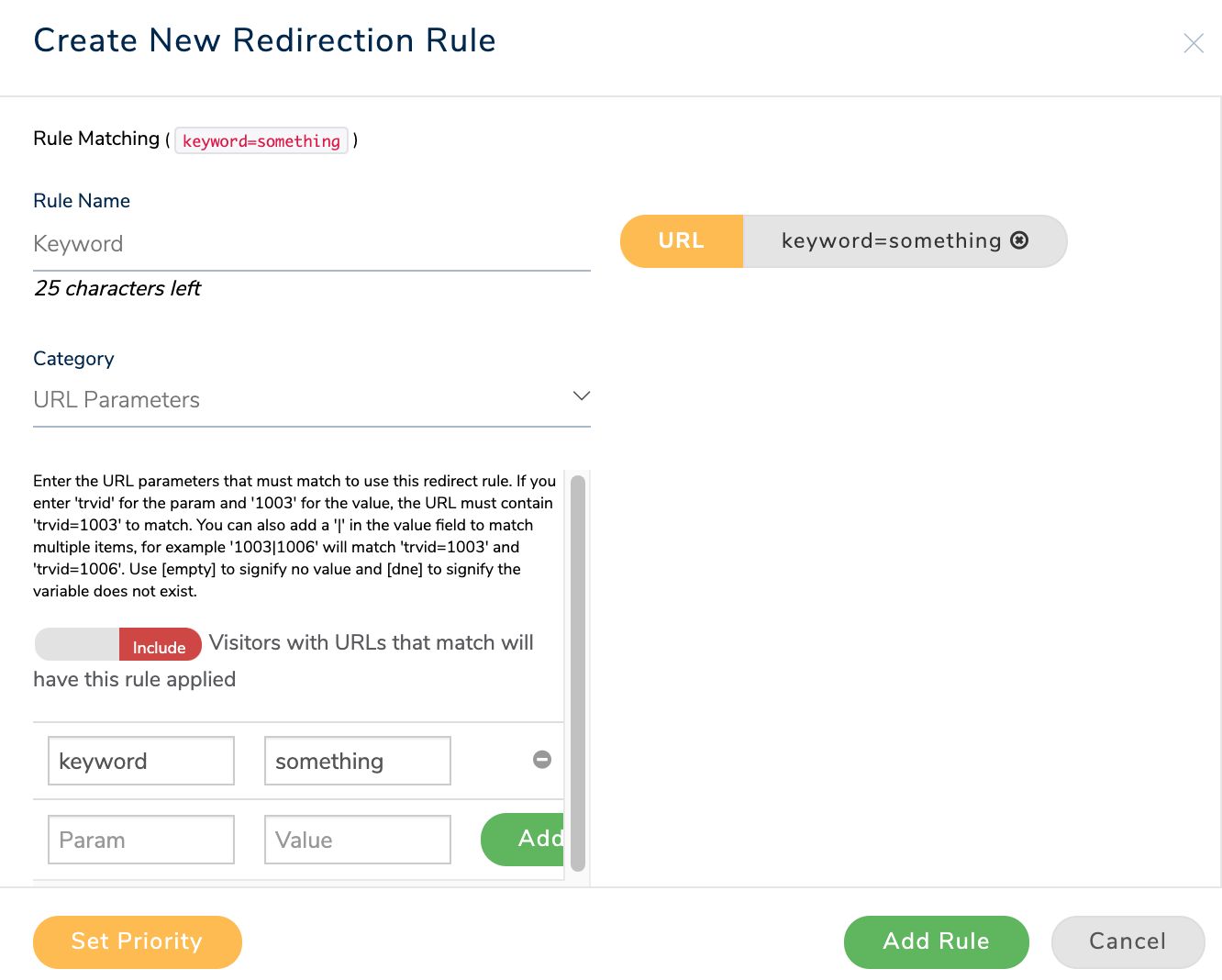 Going forward, if any visitors coming in have the parameter keyword=something in the URL that they came in on, then they will be redirected to whatever offers and landing pages you set up for this rule.
______________________________________________________________________________________
Redirection Rule Reporting
Inside of your campaign rotation, you will see tabs available for the overall performance across all landing pages/offer, your default rotation, and any rules.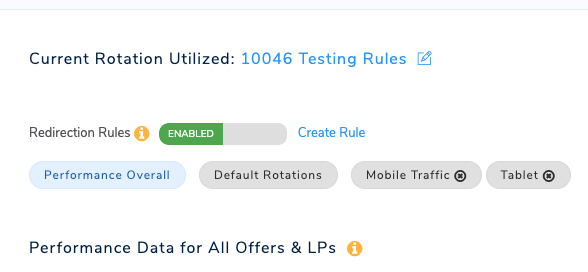 Performance Overall - This will show stats for all landing pages and offers, across both the default rotation and all rules.
Default Rotation - This will show stats for your default rotation.
Rule Tabs (e.g. Mobile and Tablet in the above example) - This will show the stats for the traffic that was redirected to the specific rule.
Note: Redirection rules are meant to send visitors to different landing pages and offers should they meet the criteria of a rule. If you have the same offer using multiple rules, for data efficiency, Thrive will display the overall stats for that offer for the entire campaign, regardless of which rule tab you're using to view the stats of the offer. If you need to use the same offer but need to see stats for the offer with certain criteria, we would recommend pulling a Drill Down Report and analyze stats that way.
If you have any questions on set up or need assistance, please contact Support anytime and we would be happy to help you out.